I want to talk about the little one toddling around our house as a recurring feature in my blogs. He is all of 20-month-old and fills our hearts and home with his incessant baby talk and antics. This blog will discuss my absolute top five skincare products for toddlers that I simply cannot do without. There are many other products that I use, but let's focus only on the top five that make the most difference. A basic skincare regime for a baby or toddler would ideally include a moisturizing cream/ lotion, baby oil, body wash, sunscreen, and a diaper rash protective cream. I would like to mention upfront that none of the links mentioned are sponsored and I do not bear affiliation to any brand.
Becoming a mother for the second time, I was confident that I have all the baby products figured out from my earlier experience of raising a boy. I was wrong. I had to go through the entire process of trial and error before figuring out the perfect regime for my younger child. This reiterates the fact that every baby's skin and hair are unique and hence his skincare regimen will also have to vary accordingly.
A few features common to all these five products are:
they are safe for babies' tender skin (hypoallergenic, paraben-free, etc.)
all of them are easily absorbed by the skin,
they are non-greasy,
once applied, is effective for a long time,
easily available in all the pharmacies and department stores,
none of them are pricey,
all of them do the job they are supposed to do quite well.
Burt's Bees Baby Calming Nourishing Lotion

In my earlier parenting experience, AVEENO® Baby was always the first choice. During winter, both my sons develop eczema-like symptoms and I have to resort to a combination of products to safeguard their skin. When my baby's skin lost all its glow in winter, I was heartbroken and though it is not a medical condition that needs medication, every mother associates the natural baby glow with the overall well-being of the baby. I kept trying all the top-rated and reviewed creams and lotions with limited to no effect until I discovered Burt's Bees Baby Calming Nourishing Lotion. Since then I have been using it for both my boys and have no complaints.
This 98.9% natural baby lotion is infused with a subtle and relaxing aroma of lavender and vanilla and features shea butter to soften and moisturize your baby's skin. It is a pediatrician tested and contains no phthalates, parabens, or petrolatum.
Live Clean Baby and Mommy Gentle Moisture Bath and Massage Oil

Beginner's luck worked for me in this case. Live Clean Baby and Mommy Gentle Moisture Bath and Massage Oil is the first baby oil I chose for our baby and we have continued to use it until now. As I used it for the first time, I instantly fell in love with its non-greasy and light consistency. While massaging, it gives off this mild scent that is very pleasant and the baby's skin remains soft and moisturized for almost 12 hours. During severe winter the effectiveness reduces to a certain extent, but it still nourishes the skin like any other thick/ heavy natural oil without the greasy sensation. Since it is very light, I usually apply it after a bath to prolong the impact. The baby oil is made of 100% pure Safflower Oil and is certified organic.
Live Clean Baby and Mommy Gentle Moisture Bath and Massage Oil is a unique hypoallergenic, light-weight formula made to benefit both Baby and Mom. Enriched with natural Cocoa Seed Butter, this deeply nourishing baby oil will help moisturize mom's growing tummy, and help improve the appearance of stretch marks.
Baby Dove, Sensitive Moisture Tip to Toe Wash
I cannot start talking about a tip-to-toe body wash that also is free from tears without acknowledging the Johnson & Johnson company for being the pioneer in this line of baby care products. When they launched their NO MORE TEARS® and HEAD-TO-TOE® range of products, no other popular baby care brands anything remotely similar to these. The concept of a single liquid soap for both hair and body was a boon to new moms, who were anyways anxious to get through the process of a bath without harming their newborns. So, I have used Johnson's HEAD-TO-TOE® Wash & Shampoo for many years for my firstborn.
This time around, I first tried the AVEENO® Baby Soothing Relief Creamy Wash. It was winter and initially, I was thankful for the creamy consistency. It did not feel like a soap, it was as if I was applying a layer of lotion in the bathtub. But over time, I started to miss the foam and the soapy feeling that we associate with body washes. Also, the baby was born with shoulder-length hair and I soon realized that this body wash was not doing the actual job it was supposed to do, that of cleaning the skin and hair. So, I have finally zeroed in Baby Dove Sensitive Moisture Tip to Toe Wash that is a perfect blend of creaminess and soapiness that cleans the skin and hair without drying it out. Also, post-wash the baby's hair stays shiny as well as conditioned, a combination I have aspired but never achieved for my hair.
This hypoallergenic, tear-free, and fragrance-free baby wash for sensitive skin gently cleanses to leave your baby's skin feel soft and hydrated. As gentle as water, hypoallergenic, pH-neutral, and tear-free baby wash and shampoo.
Banana Boat® Kids Tear Free Sunscreen Lotion, Reef Friendly, SPF 60
As is always the case with moms, we try to select the best-rated product for our babies. By default, I always choose the sensitive skin variant of every product. First, I tried AVEENO® Baby Sunscreen SPF 50. Though I did not happen to take the baby out in the sun regularly, I applied sunscreen whenever we went outdoors. The UV index is very high in Canada and sunscreen is a must before stepping outdoors. The only problem I faced with the AVEENO® Baby Sunscreen SPF 50 was that it was not fully absorbed by the baby's skin and later it left a white sheen on the skin. I don't know if this was because I have a cocoa-skinned baby or it is the same with all skin tones. So I had to look for an alternative.
Now, I use the Banana Boat® Kids Tear Free Sunscreen Lotion, which is easily absorbed and is tear-free (in case it accidentally goes into the eyes). Somehow my toddler has this inherent aversion to skincare in general (other than an oil massage), and sunscreen is his worst enemy. So the sunscreen being tear-free is a blessing for me. It is also water-resistant and claims to last for 80 minutes. Thankfully, it leaves no residue and is also non-greasy. This is the perfect product for both my boys. I have also bought a small pack that easily fits in my handbag while going out. The only problem is that the expiry date was not mentioned on the pack and this makes it difficult for us to decide whether we should continue using it after 12 months of opening.
If you are planning to use the sunscreen on a baby younger than six months, please consult your doctor first. This advisory is printed on all the baby sunscreen lotions.
Banana Boat® Kids sunscreen is a pediatrician tested, tear-free formula that's ultra-gentle on the skin with no added oils or fragrance. For moms searching for that perfect sunscreen that's gentle on the skin and provides broad-spectrum UVA/UVB protection, Banana Boat has the solution. Banana Boat sunscreen stays on in all sorts of conditions so you can enjoy more fun in the sun!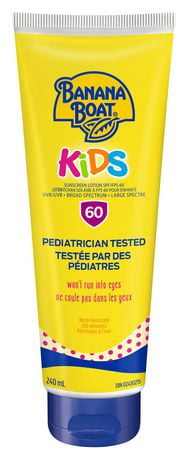 PENATEN® Daily Clear Protection Cream
I have tried zinc oxide rich diaper rash protection creams. What I did not like was that they were not well absorbed by the skin and formed a layer between the baby's skin and the diaper. When it was time for a diaper change, I would often find the cream transferred to the diaper and I wouldn't know for sure if the skin was still protected or not. This time, as was our experience will all the other baby product selection, we wanted something that the baby's skin would absorb easily and be fortified from within. Hence, we used and loved the PENATEN® Daily Clear Protection Cream. This has a gel-like consistency and spreads easily over the baby's skin and always protected our baby against any break-outs or rashes.
Moisture repellant barrier with Vitamin E
Protects baby's skin against wetness and irritants that can cause chafing and diaper rash.
Goes on clear. Spreads easily
Ideal at every diaper change because it is non-medicated


Fragrance-free, hypoallergenic, dye-free, phthalate-free, and paraben-free for baby's delicate skin
Hope you like this experience sharing blog on the skin care of my toddler. As a mother of two, I am always looking for baby care products that would work for both my sons. As of now, the lotion, sunscreen and body wash can be used by both. I am looking forward to the day when our toothbrush stand would house one toothpaste for the entire family, right now there are three different toothpastes and four toothbrushes. Wishful thinking!